Discussion Starter
·
#1
·
So I downloaded the infotainment system update that was
linked to on the Giulia forum
. It was also mentioned in that thread that it had installed successfully on a US Giulia, and that it performed a compatibility check for your car before installing. So I did some digging through the XML file that accompanied the firmware image file, and noticed that it had a few sections for VIN number validations in the config, which gave me confidence that this was true, and that the software would refuse to install if it was not compatible.
Since I hadn't gotten any response over there, I decided to get brave and give the update a try. I had verified that the software I was running was an older release than this update was.
Old Version
I plugged the USB drive in (before copying the files I formatted it FAT32 to avoid read issues) and pressed the stop/start button, but without my foot on the brake. The infotainment system immediately gave a prompt confirming I want to install the update. I thought I got a picture of that screen but apparently not.
After confirming that I wanted to install the update I got this screen about verifying the USB data which definitely put some fears at ease seeing it validate the data before installing!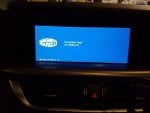 Verification took about 5 minutes, after which it began installing.
The installation made me nervous as around 4-5% into the install I reached over and turned off the headlights which were on sucking battery with the engine off, and I was worried about encountering a low battery issue when installing. I don't know if it was related or just coincidence, but within a second of turning them off the screen went blank and stayed that way for several seconds, then the infotainment system rebooted, re-verified the USB drive was present, and re-started installing. I didn't take a picture as it wouldn't have looked any different, but it certainly made my stomach drop for a second!
Once the installation was complete I was prompted to remove the USB drive.
The system rebooted the moment I pulled the drive, and took about a minute to boot up and come online, during which time a warning about audio system unavailable briefly flashed on the dash, but once it came online everything was normal.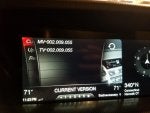 I did have to reset the 12/24 hour and my split screen settings, but otherwise nothing appeared really different. I first thought the menu system was displayed differently but I think it was just because I was used to split screen, though you can be the judge since I don't have a before & after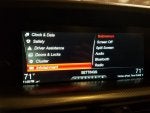 I do feel that the bottom favorites, climate control temp, and clock settings are slightly altered with different font sizes, but certainly nothing major. Satellite radio still requires scrolling through the station list every time, settings menus all appear the same.
Conclusion? I've got none. The update doesn't appear to change anything I can tell so far, and it seems to work just fine. I can't make a case to update yours, nor can I say not to. I'm sure there are more changes I can't yet tell, but so far it seems the same as before.